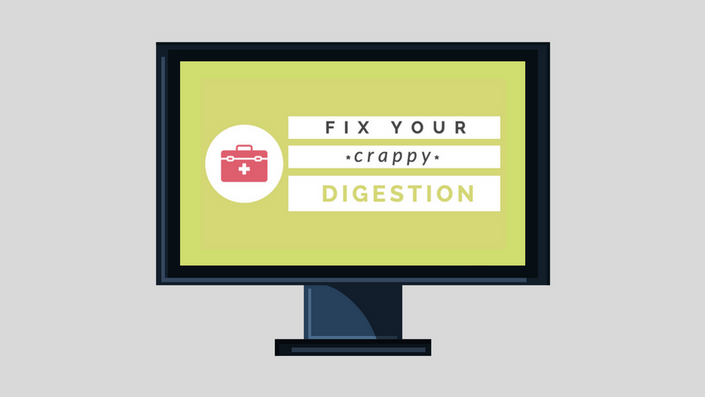 Fix Your *Crappy* Digestion
Overcome your acid reflux, bloating, leaky gut or indigestion in the next 30 days by finally addressing the root cause. Boom.
Enroll Now
Did you used to be able to eat whatever you wanted, and nowadays the mere thought of pizza (again) makes your stomach instantly bloated?
OR have you been avoiding pizza completely and "eating clean" but you're no closer to your health goals and it seems like a complete waste?
WHAT'S THE DEAL?
Skin breaking out worse than your teenage years? (Pimples AND fine lines? This is so unfair.)


You're broke (and feeling crazy) because of your daily Tums and Prilosec intake?


Feeling like you're not even close to being old enough for the amount of health problems you're facing, yet the time is flying by and they're not getting any better?


You don't feel like you have much in common with the energetic, healthy moms all around you.
(You know that "the comparison trap" is a slippery slope, but it just seems like if you got your health figured out, everything else would fall into place.)
YEAH, I GET IT. I'VE BEEN THERE.


But now? I take great care of my body and teach other women how to use food as medicine and stop living with the chronic symptoms that are stealing their joy.

YOU CAN DO IT, TOO! IMAGINE IF...
... You finally felt completely comfortable in your body, instead of dreaming about how good it will feel to someday make your health a priority.
... You understood exactly what was going on in your body the next time you have acid reflux, constipation, diarrhea, bloating or indigestion + what to do about it!
... You knew how to determine exactly what foods to eat to support the digestive healing of your body, specifically.
... You were free to eat out and socialize stress-free! (Treating your body with kindness should not mean missing fun social events!)
... You could leave the house without fearing emergency bathroom stops or being stranded with major acid reflux.
... You knew how to eat to support the basic systems of your body, for the rest of your life, without wondering if "the next diet fad" was going to be the one that finally worked for you.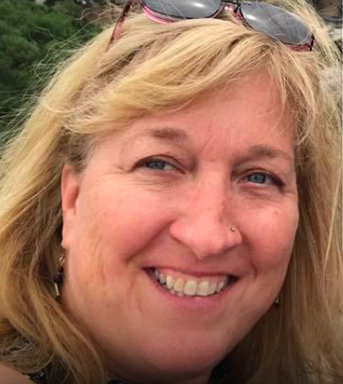 When I started I had allergies and took Zyrtek several times a month. I had heart burn / acid reflux at least once a month as well. Today, 2 months later, I am down 16 pounds. My allergies are literally gone, as are my acid reflux and gas. I feel great!!
- Molly C.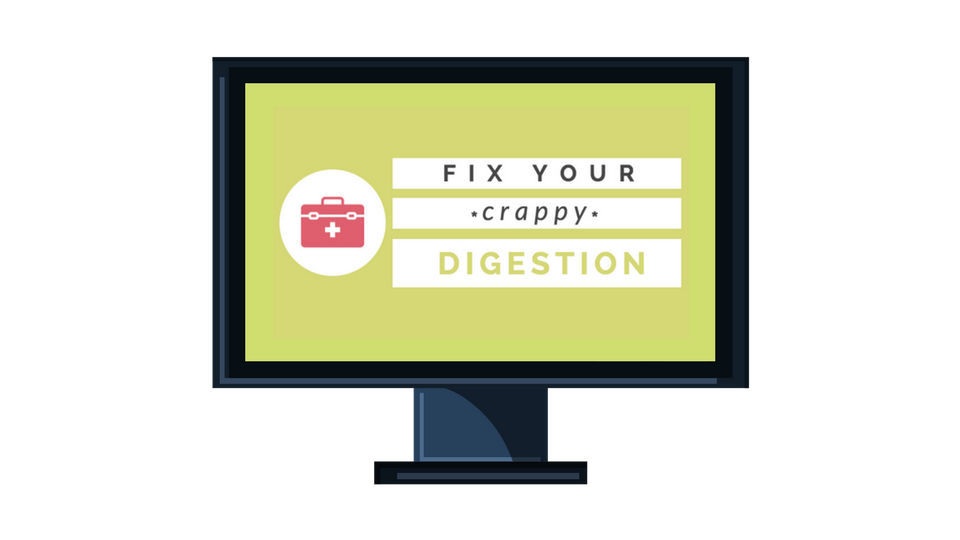 Yes, you can eat real food, without crazy restrictions or fearing every carb, and feel comfortable in your body again (finally!) knowing that your digestion is running smoothly.

Luckily, you can do it all in under 30 days and for less than the out-of-network cost of visiting a naturopath or new specialist.


**Of course, I can't guarantee any results nor do I have a magic formula that works for everyone. (No one does.)That's why I am teaching you how to read the cues of your body to figure out your own perfect balance and fix the root cause of your crappy digestion.
A few reasons why fixing your digestion should be your top priority:


1. Everything starts with food.
Without the raw materials to grow and regenerate new cells and tissue, your body literally cannot heal itself. Most of us are way overfed yet completely malnourished.
2. You can eat the most nutrient-rich foods available, but it might not make any difference.
If your body can't properly digest those uber-nutritious (and sometimes super spendy) foods, you are flushing those hard-earned nutrients right down the toilet.
3. Up to 90% of the serotonin in your brain is actually produced in the gut.
Neurotransmitters and feel-good endorphins aren't something we want to skimp on, right? If your digestion isn't working right, and your gut isn't able to do its job and produce necessary hormones and neurotransmitters, it's going to result in more than just some tummy troubles. Increasing digestive capabilities does more than just keep everything movin'...it might also be the key to relieving symptoms of mental illness like depression and anxiety. Who knew?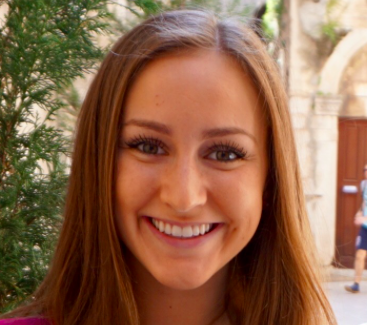 "I have always had problems with my skin either from breaking out or with eczema. These issues went away in 2 weeks time and my skin was feeling so soft and refreshed. I also really noticed a change in my energy. I was ready to go when my alarm went off and felt energized throughout the day. My favorite part about this program is that you can push the restart button whenever you need to and have the tools necessary to create a healthier lifestyle. "
- Maggie S.
If you're overwhelmed with the thought of tackling any chronic health condition, or big weight loss goal, then this is your first step.
By addressing your food choices and digestion, through the step-by-step process taught in this mini-course, you're already over halfway there no matter what those goals are! It all starts with food, remember? :)
Module 1: All about the Food
✔️ Learn how to determine inflammatory vs. non-inflammatory foods with the downloadable food list
✔️ Wondering how to easily find meal ideas without making it your part time job? I have the exact resources I use all linked up for you!
✔️ Organic, GMO's, dairy, gluten, low fat, nitrates...AHHHH! Don't worry - I cut through all the BS and explain what to eat and why. Simple as that.
Module 2: Fixing Your Digestion
✔️ Determine what your digestive symptoms are telling you and exactly how to address them (no fancy testing or PhD required!)
✔️ Connect the dots between your health struggles, stalled weight loss and crappy digestion + download your personalized digestive protocol to turn it all around.
Still skeptical? I am so confident in the power of these few diet and lifestyle tweaks, that I offer a 100% money back guarantee.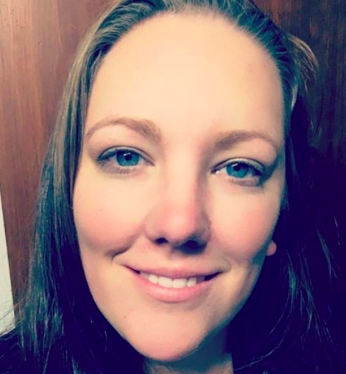 "I had been saying for years that I needed to make a change in my life but couldn't find anything that made sense to me. After reading about what this course could teach me, I knew that was what I had been waiting for. The information and life experience that Andrea has to offer is invaluable, and her courses are insightful, humorous and relatable. They also are very well thought out and relayed in a way that makes total sense to somebody without a nutrition background. I have made so many positive changes in my diet and my life after completing the course and feel so much better in my skin."
- Ashley B.
Class Curriculum
Welcome to the Course!
Available in days
days after you enroll
Module 1: WHAT and HOW to Eat
Available in days
days after you enroll
Frequently Asked Questions
When does the course start and finish?
The course starts now and never ends! It is a completely self-paced online course - you decide when you start and when you finish.
How long do I have access to the course?
How does lifetime access sound? After enrolling, you have unlimited access to this course for as long as you like - across any and all devices you own. This also includes any future updates to the course, so rest assured you can revisit the lessons as many times as you wish.
What if I am unhappy with the course?
I have seen this program literally change my client's lives. (Their words, not mine.) I am so confident that you will feel the same, that I offer a 100% money back guarantee within 14 days of enrollment IF you have completed the lessons and exercises in the course. If, after completing every juicy bite, you still feel like you're in the wrong hands, I will refund your enrollment 100%.
Why is this mini course so affordable? It seems like you could charge way more for this much valuable content.
You're right. I could...BUT I know that the first step to making any lasting health improvements is to understand what to eat and how to make sure our body is using those nutrients. Plain and simple. By making this info super affordable, I know that the future health of so many families (not just individuals!) is going to change, and that is pretty much priceless, don't you think?
Are the food suggestions in this course suitable for vegetarians?
Yes, the FYCD food suggestions are totally suitable for vegetarians. There are some protein supplement suggestions in the food list, but you may also choose to include some one-ingredient protein powders as needed in addition. (Whey, pea, etc…just NOT soy.) In Module 2 you learn how to test the foods you're eating regularly to see if you are sensitive to them, so if you are regularly eating legumes for protein, as an example, you will want to do that test to make sure they are a good choice for you.
👍 The FYCD mini-course IS for you if:
☑️ You have accepted chronic diarrhea or acid reflux as "normal" for you...even though you have a sneaky suspicion it is anything but normal. (You're right.)

☑️ You plan your social calendar and errands around your *sensitive* digestion.

☑️ Your meals are bland and boring because anything else upsets your stomach.

☑️ You look (and feel) 6 months pregnant after a meal.

☑️ You're popping Prilosec like candy because missing even one day leads to excruciating acid reflux.

☑️ You avoid eating fat because it causes you terrible indigestion.

☑️ You just want to feel GOOD again. You're tired of wondering what you could be eating differently to finally get the results you're looking for.

☑️ You're tired of feeling like you've "fallen off the wagon" Friday-Sunday and have to start over every Monday morning.

☑️ You're prepared to take specific, actionable steps to reach your goals. (No, you aren't expected to be "perfect.")
❌ The FYCD mini-course is NOT for you if:
The FYCD mini-course is not suited for someone looking for a "quick fix" or pill to take.
(Your tummy troubles didn't develop overnight, and they aren't going to heal that fast, either!)


I don't want to set any unrealistic expectations:
This course is extremely actionable and will give you all the information you need to take your health into your own hands and optimize your digestion (and your health) as the CEO of your own damn bod.
With that being said, YOU need to do the work.
There is no magic pill for "getting healthy", after all. :)


Your Instructor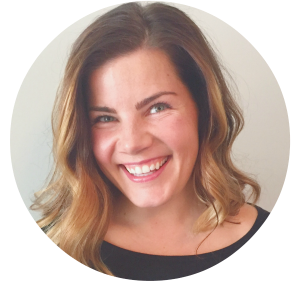 Hi, I'm Andrea! I am a certified Nutritional Therapy Practitioner (NTP), die-hard foodie, blogger at AndreaNordling.com, bossy mother of two, athleisure-wear enthusiast, essential oil prophet, world traveler, amateur fermentista, Type-A perfectionist + neurotic list maker, very outgoing homebody, and sarcastic SOB. I love red wine and red meat (equally) and if you feed me, I'll pretty much love you forever.
Have you read the FAQ's but still have further questions or need more information on the course? Contact Andrea directly at: hello@andreanordling.com